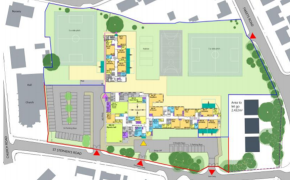 02 May 19
Clarkebond appointed to £7.5m specialist academy project
Clarkebond have been appointed to provide a range of engineering services for the redevelopment of the City of Bristol College Soundwell Centre to provide a new education facility for young people aged 5-25 years with social, emotional mental health difficulties (SEMH) or speech, language and communication needs (SLCN).
The £7.5m Learn@MAT project has been commissioned by the Department for Education. Clarkebond will be providing civil and structural engineering, advice and input to flood risk, transport planning and ground engineering services on the 4.8 acre site.
The new facilities will include a sixth form for 20 pupils and overnight support and accommodation in a 12-place respite unit. The Academy has been designed to ensure that all young people get the best resources, facilities and opportunities in life regardless of special education need, disability, gender, ethnicity, faith, sexuality and social and economic background and to inspire them to re-engage in learning, to promote inclusion in a safe, stimulating, exciting, healthy and secure environment.
The project includes the demolition of some surplus buildings, alteration and refurbishment of and construction of a new multi-use games area and sport pitches. The existing car park and drop off area is to be repaired and refreshed.
Work is expected to start in November and continue until August 2020, with the college opening shortly afterwards in September 2020.
Architects: DKA Architects
Project Managers: Mace
M&E: Silcock Dawson
Contractors: Interserve
If you would like more information on any Clarkebond's services, don't hesitate to get in touch: info@clarkebond.com or call to speak to one of our experts.