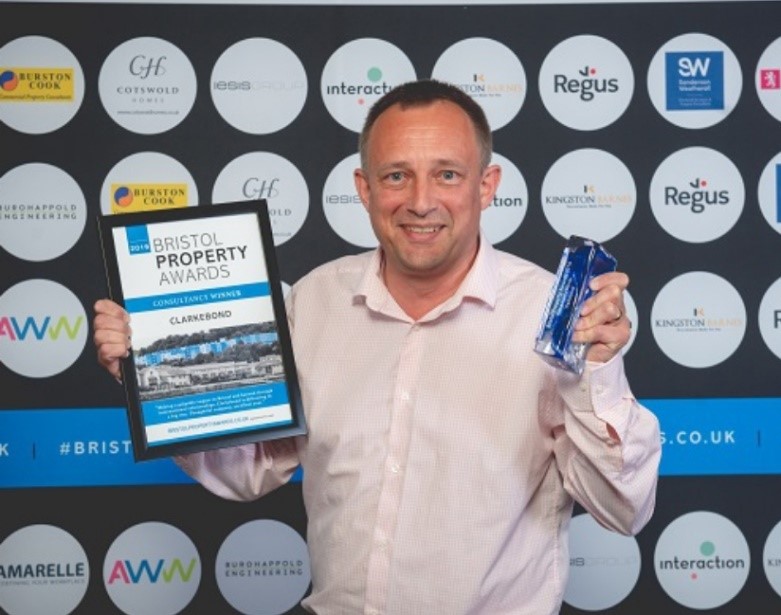 23 May 19
Clarkebond wins Bristol Property Awards Consultancy of the Year!
Clarkebond is delighted to have been named Consultancy of the Year 2019 in the inaugural Bristol Property Awards, in addition to having 2 of its projects win awards!
Max Thurgood, Director, received the Consultancy of the Year Award on behalf of Clarkebond and commented, "This award is in recognition of an outstanding year which has seen significant and exciting achievements for Clarkebond in the realisation of some challenging and ambitious targets that were set at the beginning of the year."
Achievements have included entering new markets; achieving quality, environmental, technical and cyber security accreditations; numerous project award wins; framework wins; winning work overseas; recognition in the top engineering consultancy listing, NCE 100 and launching a new vision for the company.
The judges said of Clarkebond that they are "Making a palpable impact in Bristol and beyond through international relationships, Clarkebond is delivering in a big way. Thoughtful company, excellent year."
"This really has been tremendous 12 months for all of us at Clarkebond," added Max "and my sincere thanks to all our staff and customers who have made this possible."
In addition to the Consultancy of the Year, Clarkebond award winning projects were the Being Brunel Museum, which won architects Alex French the Civic Development award and Brandon Yard by Acorn Property Group, which won the Residential Development. It was also pleasing to see that Aurora at Finzels Reach by Cubex, won both the Commercial Development Award and the Deal Award as the Finzels Reach development is a site that Clarkebond have been involved in for a significant number of years.
The awards focus attention on all aspects of the Bristol property scene, from residential to commercial, from lettings to new builds, from civic buildings to transformative projects plus selecting some individuals and companies who play a key role in Bristol's development.
For more information any of Clarkebond's services, please contact info@clarkebond.com.