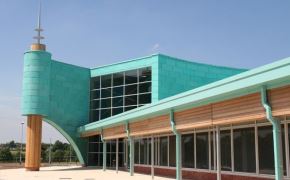 05 Feb 19
Evesham Leisure Centre extension officially open for business
Nearly 10 years after providing structural, civil and ground engineering services for an award-winning leisure centre in Evesham, Clarkebond was appointed to provide its services again for a £3m extension to the centre.
The new two-storey extension for Wychavon District Council, which was officially opened recently by paralympian, Rebecca Redfern, incorporates two new studios, a new and expanded therapy treatment suite, meeting rooms and associated kitchenette and facilities, an additional 91 car parking spaces and improved parking facilities. An existing fitness room has also been refurbished and extended.
Clarkebond once again provided structural, civil and ground engineering services for the extension.
A ground assessment for an extension of the existing car park was carried out and previous ground assessments works by Clarkebond were reviewed in order to advise design requirements for a new entrance lobby.
Clarkebond structural engineers designed the steel frame structure for the £3m extension which includes a new dance studio incorporating long span floor cell beams, designed to eliminate vibration and restrict deflection. Other design work included alterations to existing bracing arrangements to accommodate the new extension and a new over flow car park retaining wall. The overflow car park with permeable car parking surface on a sloping site presented a number of challenges for which Clarkebond civil engineers investigated various options. A new surface to the existing parking area was which removes maintenance issues was also incorporated.
Engineers: Clarkebond
Contractor: Speller Metcalfe
Architect: Roberts Limbrick