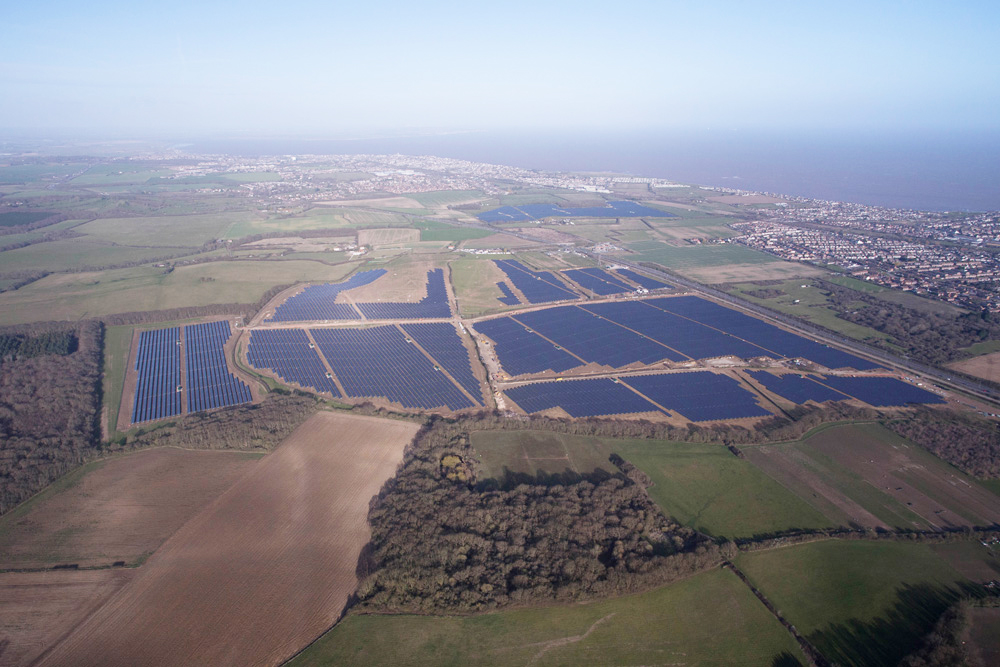 20 Aug 19
Flood risk investigation & planning support for some of Britain's largest solar schemes
The solar industry has seen massive growth over the past few years, largely due to an increase in solar farms that have the capacity to supply large quantities of clean renewable energy. With the Government plans to phase out coal fire power stations by 2025, and net zero" greenhouse gases targets by 2050, that trend looks set to continue.
Clarkebond has played a key role in helping British Solar Renewables UK to successfully develop a number of solar schemes, including one of the largest in the country, in an environmentally friendly and sustainable way – particularly with regards to flood risk, pollution control and the approach to site drainage and the management of surface runoff.
Clarkebond and British Solar Renewables UK (BSR) have consulted widely with the Environment Agency on solar panel schemes and as a result of discussions particularly with Environment Agency (SW office), developed a procedure to assess a site to identify potential risks factors which could contribute to surface runoff; the procedure involves a high level decision matrix to determine whether mitigation is required and the scope and scale of mitigation if required.
One such scheme, subsequently bought from BSR by Cubico Sustainable Investments, a global leader in renewable energy and water investment, was one of Britain's biggest solar farms. Located just off Owl's Hatch Road near Herne, Kent, the farm has the capability of powering the whole of Herne Bay and generating enough electricity to supply 14,000 homes.
The scheme comprised a complex of photovoltaic panels with a capacity of 51.9MW (connection voltage of UKPN 132KV) and covers 196.88 acres (79.67ha) – an area the equivalent of almost 150 football pitches. Clarkebond was instrumental in investigating the flood risk posed to the scheme from critical hydraulic structures linked to Plenty Brook, other local drains, ditches and culverts. Clarkebond also developed and implemented effective and sustainable flood mitigation and management measures to allow planning permission to be granted.
Another development of approximately 26.6 ha on a farm, in Tudeley, Kent, includes over 40,000 panels which will generate enough energy to power over 4,000 homes in the surrounding area. In this case Clarkebond was commissioned to provide a Flood Risk Assessment (FRA) to support the planning application and advised on how best to achieve sustainability objectives through the development layout.
Particular attention was paid to using existing natural topographic features to manage surface water run-off and to leaving undisturbed all existing hedgerows, ponds, trees, ditches and wildlife. Existing tracks were used to facilitate maintenance of the solar panels and a SUDS (Sustainable Urban Drainage System) was incorporated to minimise surface water run-off.
An innovative design of solar panels was recommended which comprised horizontal slots across the surface area of each panel to allow intercepted rainfall to drip through to the ground at regular intervals in contrast to conventional designs which normally intercept the rainfall and discharge as a concentrated flow at one end.
Clarkebond also had input into the layout of the panels including specifying the setback distances from watercourses and other hydrological features and easements from sewers.
Clarkebond's flood risk assessment demonstrated that the development complied with the requirements of the National Planning Policy Framework (NPFF). This, along with Clarkebond's advice on the development layout, innovation in solar panel design and use of appropriate Sustainable Drainage Systems (SUDS) features to manage surface runoff, was a significant factor in the success of the planning application for the development of this solar park.
'By working with a site's natural features, and using our expertise and knowledge of innovative technology, we can support developments that are in harmony with the landscape and that satisfy planners, developers and neighbours alike.' Seymour D'Oyley, Associate Director.
For more information on any of the above or to discuss a current project, please contact SeymourD'Oyley@clarkebond.com, 0117 929 2244.