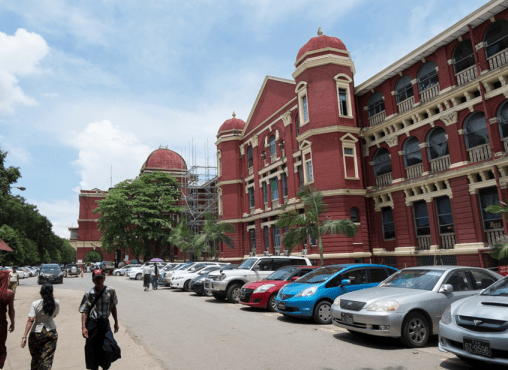 20 Dec 19
Funding granted to continue Clarkebond's work on humanitarian project in Myanmar
Clarkebond is part of a project team assisting in design, advice and training for local staff and engineers to help with reinvigorating the Yangon Hospital, Myanmar, as part of an overall masterplan produced by Article 25, the largest architectural charity in the world.
The Masterplan sets out the sustainable expansion of the campus, considering the building's heritage as well as providing adequate space for patients and staff, over an estimated 20 years, divided into 4 phases. Over the years, unplanned growth and lack of maintenance compromised the building fabric and led to problems with some vital infrastructure functions, such as lack of adequate drainage, water supply and good patient access.
Clarkebond's own engineers have made multiple visits to the project to support the on-going development of the masterplan, and over the past 4 months have had a permanent representative on site in the shape of a civil engineer who is a Myanmar national.
This element of the project was in danger of stalling as funding for this support came to and end, but a new grant from the Department for International Development has now been awarded, allowing our in-country engineer to continue his work on site for a further 12 months.
He is currently overseeing a project to clean and survey the entire surface and foul water drainage on the campus, which allow the design of repairs, improvements and diversions to these systems to provide clear footprints for the planned programme of buildings to come forward. This essential first piece of work is setting the template for the delivery of the future projects as well helping to bring the Hospital into line with a number of the UN sustainability goals.
For more information on the above, or to find out more about Clarkebond's services, please contact maxthurgood@clarkebond.com.
Partner organisations: Rangoon General Hospital Reinvigoration Charitable Trust, Yangon General Hospital, Department for International Development (UK)
Article 25: Architect and Master planner
Michael Hadi Associates: Structural Engineers
Max Fordham: Services/Environmental Engineers
Hoare Lea: Healthcare Engineers
Clarkebond: Civil Engineers