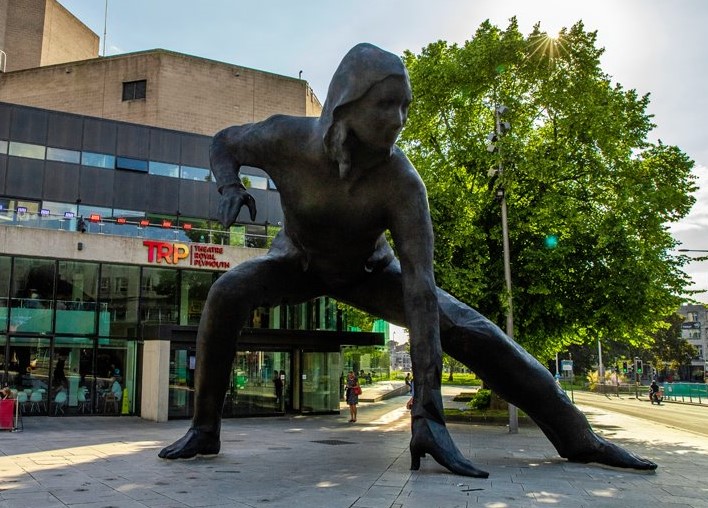 28 Mar 19
Messenger on firm foundations thanks to Clarkebond engineers!
Thousands of people lined the streets of Plymouth recently to watch the UK's largest bronze sculpture work its way through the city's streets before eventually being craned into place and officially unveiled outside the Theatre Royal Plymouth.
Clarkebond was appointed by The Theatre Royal to design the piled reinforced concrete foundations required to support the iconic 'Messenger' statue in its location in front of the Theatre.
At 7 metres (23 ft) tall and 9 metres (30 ft) wide, and weighing 8 tonnes (18,000 lb), Messenger is the largest sculpture ever created in the UK using the lost-wax casting process. Neil Marks, Commercial Director of Clarkebond, was present for the unveiling, and commented:
"This is a really striking piece of work which will stand as a symbol of the creative life of Plymouth to inspire future generations. We are proud to have played a part in its journey."
Messenger was created by the Cornish artist Joseph Hillier and depicts a female actor crouching in preparation to run onstage. It was installed in preparation for the city's 2020 celebration of the 400th anniversary of the ship Mayflower sailing to the New World. It was cast over 18 months in the Castle Fine Arts foundry in Llanrhaeadr-ym-Mochnant, Powys and delivered by barge across Plymouth Sound.
If you would like more information on any Clarkebond's services, don't hesitate to get in touch: info@clarkebond.com or call to speak to one of our experts.