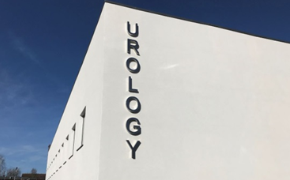 06 Mar 19
New £6 million state-of-the-art urology centre in the news!
A new £6 million state-of-the-art urology centre that will deliver cutting edge treatment and research for patients from across Surrey and beyond, has been given a royal seal of approval and shortlisted for a prestigious RICS award in the same week!
Clarkebond provided civil, structural and ground engineering services for The Stokes Centre for Urology at Royal Surrey County Hospital, one of the largest centres for the treatment of prostate cancer in Europe and among the top centres in the world.
His Royal Highness The Duke of Kent was given a guided tour this week by Consultant Urological Surgeon, Professor Stephen Langley, who is one of the world's leading prostate cancer specialists, before unveiling a commemorative plaque.
Professor Langley said: "This building is a beacon to the NHS and will ensure that exceptional care and treatment will now be delivered from a modern and purpose built facility."
n the same week as the royal visit, the RICS revealed their shortlist for the RICS Awards 2019, South East and the Stokes Centre for Urology was shortlisted in the Community Benefit category – a great accolade for the facility and the whole team behind the successful completion of this challenging project.
The new two storey building provides a centralised hub for the urology department plus consultation and treatment rooms, administrative and staff accommodation, clinical facilities and new lecture facilities.
The urology centre sits in front of the main hospital building and, along with an extension to another adjacent building, covers practically the entire available developable footprint on the previous landscape. The utilisation of this area required considerable excavation into an existing slope and the inclusion of retaining walls in the new building structure.
The logistical challenges of constructing a new building within a restricted occupied hospital site included ensuring the safety of the general public and hospital staff, operating a safe and professional site with minimal impact on the hospital's adjacent buildings. The location and ground conditions also provided other engineering challenges for Clarkebond engineers including below ground drainage, diverting high voltage cables running within the slope area to be excavated, investigation of anomalies identified within the slope and the requirement for an underground rainwater attenuation tank.
The superstructure of the building was designed to be a fast-track steel frame solution with manufactured off-site floor construction system to ease delivery, handling and construction.
Click for more information on The Stokes Centre for Urology at Royal Surrey County Hospital.
Architects: ADP Architects
Structural, Civil & Ground Engineers: Clarkebond
Building Engineers: CBG Consultants
Main Contractor: Logan Construction