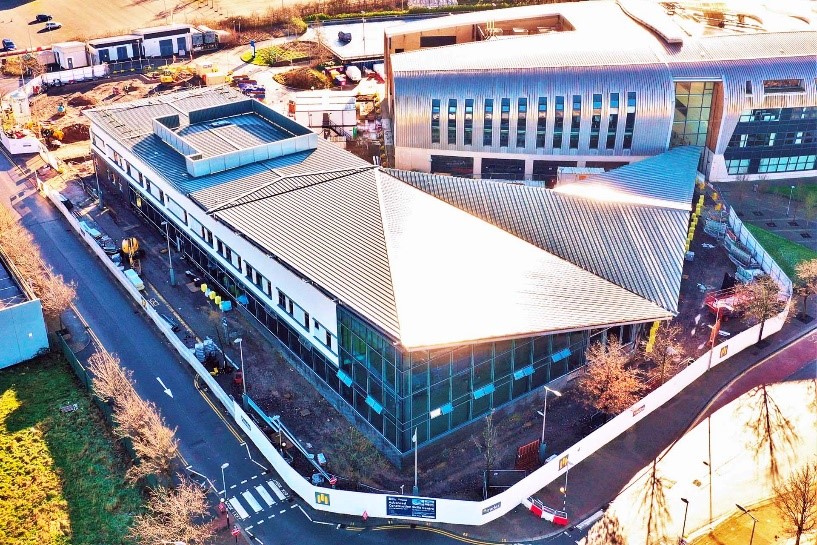 29 Jun 21
New £9m Advanced Construction Skills Centre achieves practical completion
Practical completion has been achieved for a new Advanced Construction Skills Centre adjacent to City of Bristol College -South Bristol Skills Academy in Hengrove, Bristol.
The new Advanced Construction Skills Centre (ACSC) comprises 3500m2 of new build and the associated external works. The new building will include carpentry, joinery, painting and decorating workshops and support facilities as well as a new smaller motor vehicle workshop.
There will also be some minor alterations to the existing South Bristol Skills Academy Building and small landscaping areas are proposed. Clarkebond had provided civil, structural and ground engineering services, a flood risk assessment and SuDS Proof of Concept reports.
The project comprises the construction of a single 2 storey steel frame educational facility, consisting of a main composite deck structure with an attached link corridor. The corridor is to connect into but be structurally independent of the adjacent building. 
Clarkebond has provided the structural design of the steel superstructure, composite slabs on the first floor and plantroom area on the roof level, all foundations, suspended slab on beams and ground bearing slab on ground floor level.
Clarkebond engineers had helped the team by providing advice and a design solution for the complex form of the steel roof and the unusual eaves details which have been a real design challenge. As a result of skilful 3D modelling and good coordination with the team, some very complicated steel connections and details were successfully fabricated and installed.
Client: City of Bristol College
Principal Designer: Atkins
Contractor: Midas
M+E Engineer: BoxTwenty/Method
Architect: Atkins
Landscape Architect: Atkins
QS: Ridge
Civil & Structural Engineering: Clarkebond
Ground Engineering: Clarkebond
Flood Risk Assessment & SuDS: Clarkebond
For more information on any of Clarkebond's services, please contact jamesedmonds@clarkebond.com.