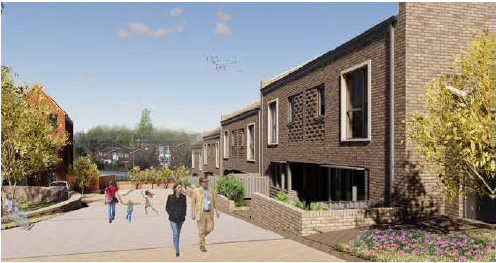 07 Aug 19
Planning granted for housing – subject to satisfying added climate change provision
Plans to regenerate an existing run down 1960s social housing development with 36 new homes have been approved by Mole Valley District Council and Surrey County Council with a condition that will increase the climate change rainfall allowance requirement by an additional 10% over the National Planning Policy Framework (NPPF)'s guidelines and the latest EA Climate Change Guidelines of 40%.
Clarkebond is providing flood assessment, ground engineering, drainage, highway and pavement design, transport planning and structural engineering services on the development by Clarion Housing Association in Kingston House Gardens, Leatherhead.
The additional 10% rainfall allowance has been made a condition of the approval by Surrey County Council, the Lead Local Flood Authority on this application.
"The rise in number of extreme weather events has understandably made the authority cautious about the infrastructure in future developments. Whilst the current guidelines are already based on 1:100-year events with a 40% allowance for climate change, I would not be surprised to see other authorities following Surrey's lead," commented Bradley Welsh, Associate Director, Civil Engineering, Clarkebond. 
"Obtaining planning consents whilst maintaining the commercial viability of developments is set to become even more challenging going forward and our expertise in this area is in great demand."
Architects: Baily Garner
Engineers: Clarkebond
Employer's Agent and Cost Manager: Potter Raper
Landscape Architects: Standerwick Land Design