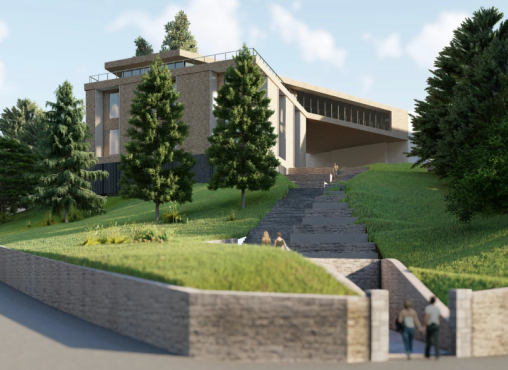 13 Aug 19
Unanimous approval for Exeter College Hele Road Masterplan
Plans for a £70m masterplan to improve education provision in the city at Exeter College have been unanimously approved by Exeter City Council. A separate detailed application for the first phase of the masterplan, a new Digital and Data Hub, has also been approved.
The masterplan will deliver new entrance gardens, landscaped courtyards and a new spine running through the campus that will improve pedestrian links between St David's Station and the city centre.
Clarkebond's transport planning team have played a key role in the design team appointed to provide advice on the master planning exercise.
The transport team designed a safety scheme for Hele Road, including two new pedestrian crossing points and a pedestrian/cycle refuge within the carriageway to allow safer crossing and a pedestrian crossing on Howell Lane at the College's access point. These schemes were designed to create a safer environment for active travel users.
Each of the schemes were subject to a Stage One Road Safety Audit by Clarkebond's Road Safety Auditing team.
Clarkebond's ground engineering and flood management engineers have been involved in the application for the new Digital and Data Hub which will see a three-storey extension to the existing Hele Building. This is part of a south west bid for an Institute of Technology, which is in the final phases of funding approval.
Clarkebond produced a Flood Risk Assessment (FRA) and Drainage Strategy (DS) to support the masterplan. Whilst the site is within Flood Zone 1, the FRA and DS also covered the IoT development in more detail, giving particular attention to the detailed planning of the drainage routing, storage volumes and flow controls for this area of the site. The remainder of the drainage for the wider site focussed on the types and potential locations of potential surface water management items (including SuDS) with indicative 'worst case' sizing for final attenuation features given to aid the identification of space requirements prior to detailed design.
Construction of the new Digital and Data Centre is planned to start in late 2019.
Masterplanners: Avison Young
Architects and Landscape Designers: LHC Design
Engineers: Clarkebond
If you would like more information on any of Clarkebond's transport planning services, don't hesitate to get in touch: email davidknight@clarkebond.com or call 0117 929 2244.